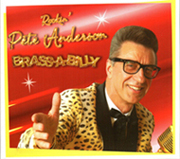 Pete Anderson is privileged to have been nominated among the top ten finals for his "Brass-A-Billy" CD in the
Rockabilly Album
category for the
Just Plain Folks Music Awards 2009
(called the "Grammy of the Independent Music World" by "L.A. Times")
.
The Winner will be picked on Saturday, August 29th in Nashville,TN, USA.
Here's a link to ticket info and the schedule:
http://www.jpfolks.com/MusicAwards/2009/Nominees/reservations.html
Just Plain Folks
had 42,000+ albums and 560,000+ songs entered for the awards this year, and recently announced nominees in 81 album and 67 song categories. This year's nominees come from over 160 countries around the world and include seasoned well known veterans and some of the best up and coming artists and writers in the music community.
JPF spent 13 months screening all the music and among others chose
"Brass-A-Billy"
to be eligible for the Just Plain Folks Music Award.
The Just Plain Folks Music Awards are the largest and most diverse music awards of any kind in the world.
This is the equivalent of the Grammy for independent artists.
If you'd like to read a great article on one of the last awards show/process, here's a link to an Article from Singer Magazine that summarizes what it's all about very well: http://www.jpfolks.com/AwardsArticle.pdf
For more detailed info click on banner, go to "AWARDS" and scroll down to "Rockabilly Album Nominee"!