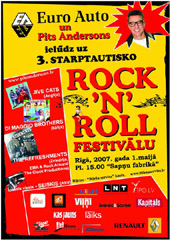 On May 1, 2007 already 3rd international rock'n'roll festival will be held in Latvia!
It will take place at "Sapòu Fabrika", 101 Lacplesa str.
Show time is at 3.00 p.m.
Extraordinary, professional and interesting musicians!
As usual, we'd like to present you the world's best performers and different styles of rock'n'roll music, so that one might see many sides of it as thorough as possible!
Here come the stars!
The Refreshments (Sweden) www.refreshments.nu - Top Rock'n'Roll Band from Sweden! In December 2006 their last album, taking into account its sale results, received Gold status. Exclusive rights to represent this band are in the hands of EMA and Rock Around The Clock Productions.
Almost all songs are written by the leaders of the band
-
Joakim Arnell and Johan Blohm.
Most of them are widely considered as real hit songs.
The Refreshments have been playing as the same line-up for 16 years. This band is highly requested one and they are always very choosy concerning the place where they go to play
Famous Marco Di Maggio with his band Di Maggio Brothers (Italy) www.marcodimaggio.com. The band being recognized as The Coolest Rock-a-billy On The Planet!
The only Italian who has gained an honour of beimg inducted into Rockabilly Hall of Fame (
www.rockabillyhall.com/MarcoDiMaggio.html
).
Filigree guitarist with a unique virtuoso style of playing. Marco has often collaborated with such stars of show-business as:
D.J. Fontana
(Elvis' drummer),
Scotty Moore
(Elvis' guitarist),
Kevin Smith
(bass player of
HIGHNOON
and
BRIAN SETZER ORCHESTRA
),
Albert Lee
(guitar legend),
Everly Bros.
,
Paul McCartney, Eric Clapton,
Linda Gail Lewis
(sister of
JERRY LEE LEWIS
),
Dave Roe
(
JOHNNY CASH
's and
DWIGHT YOAKAM's bass player
),
Gary Lambert
(
EDDIE COCHRAN's
and
GLEN GLENN's guitarist
), and many many more.
Marco has played on the same stage with LITTLE RICHARD, BILL HALEY's COMETS, BRENDA LEE, WANDA JACKSON etc.
Jive Cats www.jivecats.co.uk – this joyful band from the UK will open this year's festival. It is the first and to this day the only one swing and jump'n'jive style band who has ever played in Latvia! The band's soloist Flo is one of today's most professional performers of this style.
Special guest of the festival - Valery Saifudinov (Seisky, many has been written about him in the section "Biography") from USA.
The festival could not take place without huge support of "
Euro Auto
" company (
www.euroauto.lv
), the official dealer of RENAULT in
Latvia
. Our personal appreciation goes to Nazil Dyominov – the owner of the company, music lover, a man who supports REAL music!
Housing of the highest range for the musicians is provided by "
Albert
Hotel"
www.alberthotel.lv
that is our regular supporter. Not the last thing that our festival gained very good recommendations from the participants of the 2
nd
festival for exceptionally warm hospitality.
"
Mantojums
" typography prints cool posters of the festival!
Our informative supporters are:
TV program Utro.lv, "Balm On Your Soul" Show, LNT, Radio Skonto, "Business & Baltics", "Kapitals" magazine, "Hansa Nekustamie Ipasumi", "Rigas Vilni" and "Kas Jauns" magazines, JCDecaux, portal
www.delfi.lv
.
Many thanks for all of you who have been supporting us!
Tickets for the festival will be available in "Bilesu Serviss" box-offices as well as on on-line on web-site (
www.bilesuserviss.lv
), starting from March 19.
"WITHOUT MUSIC LIFE WOULD BE A MISTAKE!"